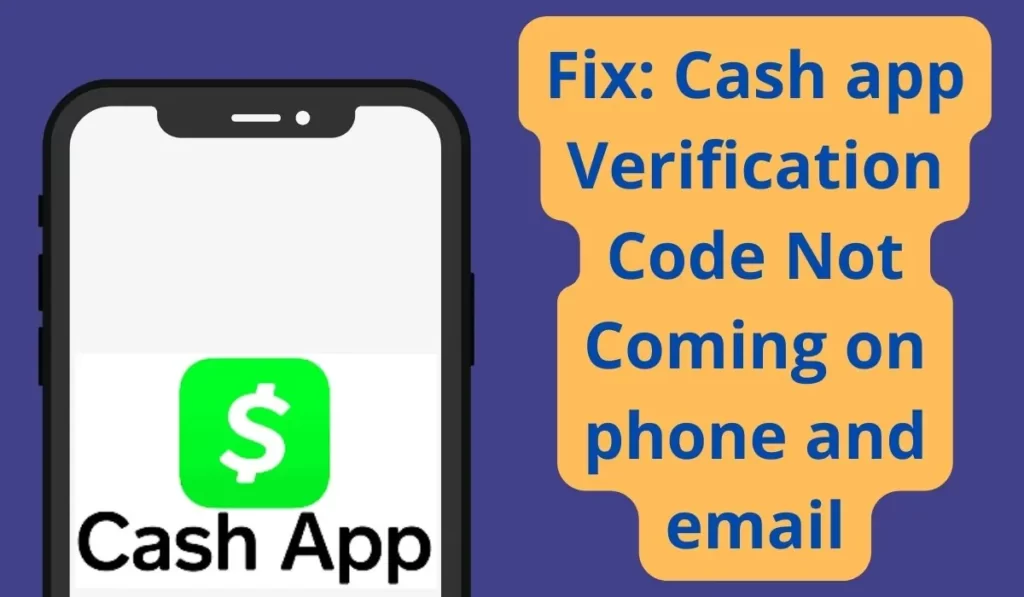 Cash App is a mobile payment service available in the United States and the United Kingdom that allows users to transfer money to one another using a mobile phone app. In September 2021, the service reported 70 million annual transacting users and US$1.8 billion in gross profit.
Four days back I was trying to log in to the Cash app from my phone. When I entered my phone number I hit the get Verification Code on my phone number, then after waiting for some time Verification Code didn't receive any code. In fact, some people get a verification code even though they aren't trying to log in on the Cash app.
I tried various solutions tips to solve this error, fortunately, as I am a tech geek followed some solution tips and those tips worked for me.
Here in this post, I am going to share those solution tips with you so that you can use them to verify your account.
Fix: Cash app Verification Code Not Coming on phone and email
1. Double check the number
You may think it is foolish to check the number again but I have seen my friends who were wrong to enter their own numbers and they end up with verification failure. So Just make sure you have typed your correct personal Phone number or email.
2. Check messages & spam mail
Before following other solutions check if your sim is able to receive SMS or not. To check this you can try to send an SMS to yourself. Or simply try to verify your identity on another platform where can receive a Verification Code to check if your number is receiving SMS messages or not.
If you're trying to verify your mail then check its spam message folder to check verification mail.
3. Clear the Cache
Cached files are temporary files that your computer downloads and stores to save time in the future. On your device cache of the Cash app and the default messaging app is stored which may create problems while using it, so clearing them is a good choice in this case.
Follow the given steps to clear the cache of the Cash app and the default messaging app:
Open your device's Settings app.
Tap Apps & notifications > App info or See all apps.
Tap the Cash app.
Tap Storage > Clear Cache.
Follow the same process to clear the cache of your default messaging app.
4. Check the internet
Sometimes the strength of your internet is not enough to work the app properly in this case app will not work properly and it will be laggy. Thus it can cause an interruption in verifying your authority on the Cash app.
So, try connecting to different Internet if available. If you have different network provider Internet then try using that, or if you have broadband WI-FI then try using that too, in some cases this solution works!
5. Update the Cash app
If you are running an old version of the Cash app App then it may have some bugs or it will not work to verify your authority. So try installing the latest available version of the Cash app.
Steps to Update Cash app on Android:
1. Open the Play Store app then tap on your profile present in the upper-right corner.
2. Then go to 'Manage apps and device' and go to 'Updates available'.
3. Then find the Cash app and tap Update.
Steps to Update Cash app on iOS:
Open the App Store.
Select the Today tab.
Tap your profile icon at the top of the screen.
Scroll down to check for updates on Venmo and update it.
If you already have the latest version of the Cash app then try the next solution
6. Restart Your Device
Sometimes misconfiguration happens within your device software so restarting your device can overcome such misconfiguration.
So if you are facing some issues with your phone then restarting the device may help to solve this Cash app not receiving problems easily without much effort.
7. Put your Sim on Another Phone
If you are in a hurry to the Verification Code then, you can do a simple thing that you just remove your sim card and put it on another phone or feature phone, it will definitely work now and your OTO might receive it now.
8. Call Customer Care
If you have followed all the above methods and none of them worked for you to receive the Verification Code, then try contacting customer care of the Cash app.
After contacting them, explain your's fair situation to them, and they will definitely help you out with this situation.
---
Conclusion
We have shared all possible solutions to the problem of the Cash app Verification code not receiving on mail and phone number. If you still have any kind of issues or problems then feel free to comment below.