PhonePe is a payments app that allows you to use BHIM UPI, your credit card and debit card or wallet to recharge your mobile phone, pay all your utility bills, and make instant payments at your favorite offline and online stores. You can also invest in mutual funds and buy insurance plans on PhonePe.
Recently I was trying to set up my father's Phonepe account but while adding a bank account it was showing "Unable To Proceed – Failed to initiate SMS. Please try again."
Actually to verify the Bank account OTP SMS message has to be sent to your linked phone number but due to some issues it is not possible and as result, you see this issue of failed to initiate SMS PhonePe.
So in this post, we will discuss some solutions to this specific failed to initiate SMS error. Hence keep reading this post till the end to know the solutions and apply them one by one to get the right solution for you.
Regular readers know that I am a tech geek and I always look for solutions to problems.
Fix Failed To initiate SMS Problem on PhonePe
You will have to follow the Solutions tips and tricks that I have mentioned below, your problem will be solved for sure.
1. Allow permission
When you install PhonePe it asks for some permission, if you disallow permissions to send SMS from PhonePe then it won't be able to send SMS. So to solve this issue you just have to Allow permission to send SMS from PhonePe.
Long tap on the PhonePe app's icon then tap on the 'App info'.
Now navigate to 'App permissions'.
Then tap on the 'SMS' section and click allow.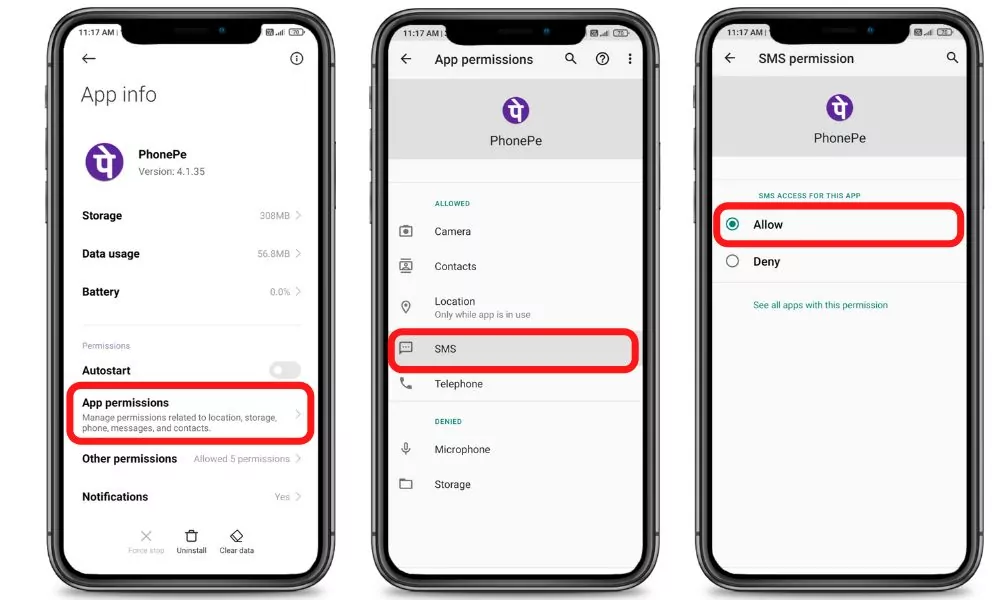 2. Date and time
As per my observation, most of the PhonePe errors happen only because they don't have accurate dates and times according to their country. So just try setting the time and date to the automatic mode, it will solve the problem automatically, and alternately it will solve other problems too.
Steps to Set date and time on Automatic mode:
Open your phone's Clock app.
Tap More & Go to Settings.
Then go to System time.
Now to set automatically update your date and time Tap on Change date & time, Then Set the time zone to automatic mode.
3. Top-up Recharge:
Sometimes if you haven't any active plan on your sim then it may show various problems. Check if your sim can send and receive SMS if you are not able then to try to fix that and your problem will be solved.
You can take help from the customer care of your sim provider.
4. Clear Cache and Clear data
A cache is nothing but a small file that includes files that help future processes faster and can be deleted easily. Sometimes cache stored in the PhonePe creates problems while using PhonePe, so clearing them is a good choice in this case.
Firstly try clearing the cache if it doesn't work then try to Clear all data. You can also try to clear the cache of your default messaging app.
Follow the given steps to clear the cache of the Play Store:
Open your device's Settings app.
Tap Apps & notifications > App info or See all apps.
Tap PhonePe.
Tap Storage > Clear Cache.
5. Update PhonePe
If you run an old version of PhonePe then it may show this issue, so simply try to use the most recent updated version of PhonePe.
To Update PhonePe from the Play Store follow the steps mentioned below:
1. Open PhonePe then tap on your profile present in the upper-right corner.
2. Then go to 'Manage apps and device' and go to 'Updates available'.
3. Then find PhonePe and tap Update.
If PhonePe is not on the list then your App must be up to date already. In this case, follow the next solution.
6. Restart The device
Sometimes your smartphone gets some bugs and in such cases rebooting your smartphone is the best option that you can do to overcome such bugs. Simultaneously, restarting can resolve the problem related to the network.
7. Contact support
Unfortunately, If all the above solutions didn't work for you, then try contacting the support team of PhonePe they will definitely help you to solve the problem.
If your SMS service is not working then try contacting your network operator.
---
Conclusion
We have researched and explained the best possible solutions to fix Failed To initiate SMS Problem on PhonePe in this post. Hope this post helps you to solve this problem.
Don't forget to share your experience related to this problem.