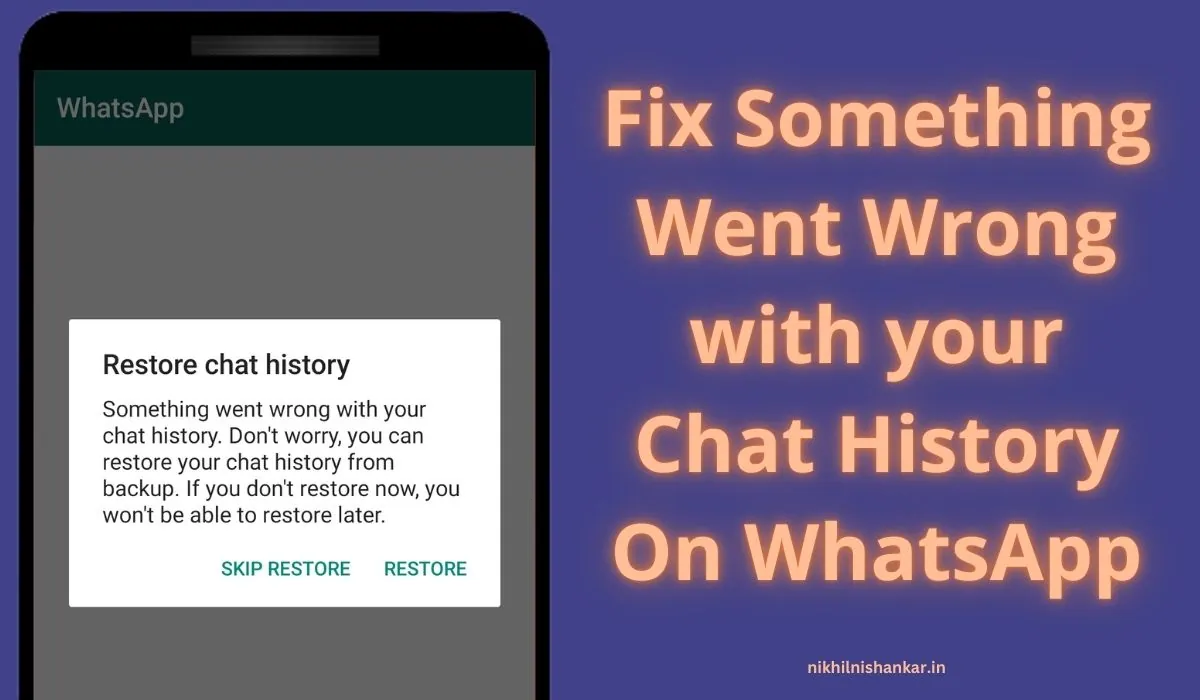 WhatsApp is an internationally available freeware, cross-platform, centralized instant messaging and voice-over-IP service owned by the American company Meta Platforms. It allows users to send text and voice messages, make voice and video calls, and share images, documents, user locations, and other content.
Recently my friend was trying to restore chat history On WhatsApp but it showed an error message saying:
"Something went wrong with your
chat history. Don't worry, you can
restore your chat history from
backup. If you don't restore now, you
won't be able to restore later."
So today in this I am going to share some tips that helped my friend to solve this issue, hope those solution tips will help you.
Something Went Wrong with your Chat History On WhatsApp
If something went wrong with your WhatsApp chat history, there are a few things you can try:
Make sure that your WhatsApp is up to date.
Check if there is enough storage on your device. WhatsApp chat history may not save properly if there is not enough storage.
Try clearing the cache and data of the WhatsApp app. Go to the settings on your device, then to "Apps" or "Application Manager" and find WhatsApp. Select "Clear cache" and "Clear data" and then restart your device.
Try uninstalling and reinstalling WhatsApp. Make sure to back up your chats before uninstalling.
Check your device's internet connection. WhatsApp chat history may not save properly if your device is not connected to the internet.
If none of the above steps work, you can contact WhatsApp support for further assistance.
It's important to mention that WhatsApp has a cloud service called Google Drive or iCloud, which allows you to back up your chats and restore them if something goes wrong.
Hope you got the right information from us, and it helped you.
If there is anything related to this topic do share it with us in the comment box, we will be more than happy to help you.