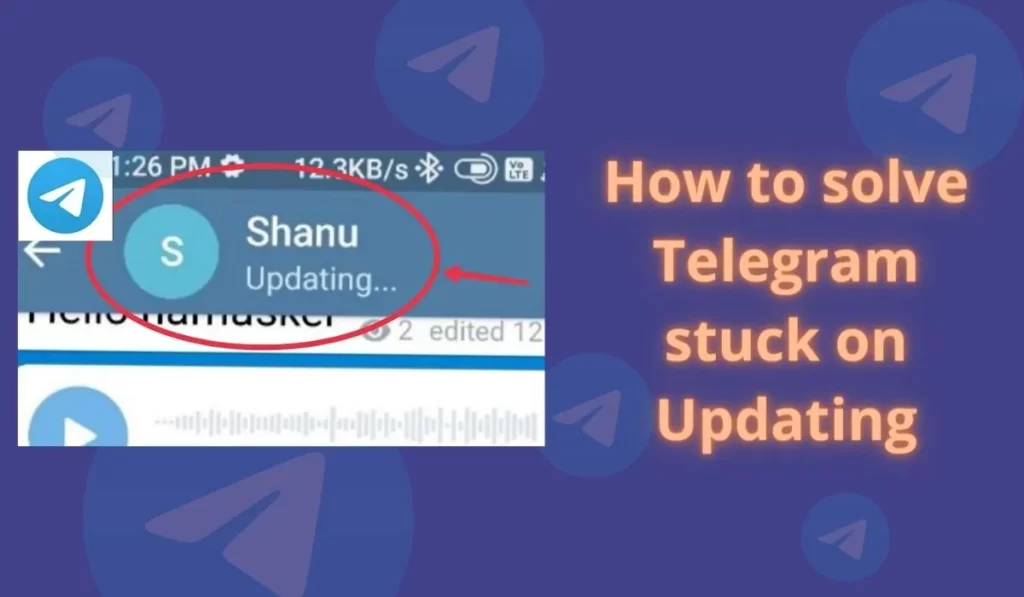 Telegram is a globally accessible freemium, cross-platform, cloud-based instant messaging service. The service also provides optional end-to-end encrypted chats and video calling, VoIP, file sharing, and several other features. It was launched for iOS on 14 August 2013 and Android on 20 October 2013.
I personally use Telegram daily for various benefits that different matter. But recently while using Telegram it was showing only updating status while I was chatting with my friend.
As a tech geek, I already knew some solution tips that I applied and they worked for me. So today in this post I am going to share those tips with you in this post so that you can use them and apply them to solve this Telegram error. In addition, you can read How to Rejoin a Telegram Group After you get Banned.
How to solve Telegram stuck on Updating
1. Troubleshoot Internet Issue
Most probably it is the weak internet issue so better to solve the issues of the Internet before trying other solutions.
If you have an active VPN as it may send the wrong signal to Telegram, but I don't face any issues when I use it while VPN is active. What is your experience with this please mention it in the comment box.
If you are using Mobile data to use Telegram then you can try to keep your device on Aeroplane mode for a few seconds and see if it solves the issue, if not then try to use Wi-Fi.
If you are using Wi-Fi then make sure to reboot it once. If rebooting didn't work then follow the next solutions.
2. Clear cache
A cache is nothing but a small file that includes files that help future processes faster and can be deleted easily. Sometimes cache stored in Telegram creates problems while using it, so clearing them is a good choice in this case.
Follow the given steps to clear the cache of Telegram:
Open your device's Settings app.
Tap Apps & notifications > App info or See all apps.
Tap Telegram.
Tap Storage > Clear Cache.
3. Update Telegram
Usually, an old version of the Telegram app may have bugs in it, and to tackle these bugs new versions are released from time to time. So you should have the latest version if you see such problems regularly.
Steps to Update Telegram on Android:
Open the Google Play Store.
Tap on it your profile or menu icon which must be present at the top.
Select My apps and games.
Find Telegram and Update it.
Steps to Update Telegram on iOS:
Open the App Store.
Select the Today tab.
Tap your profile icon at the top of the screen.
Scroll down to check for updates on Telegram and update it.
If you already have the latest version of Telegram but still have this issue then try the next solution.
4. Restart Your Device
Sometimes misconfiguration happens within your device software while using it. so restarting your device can overcome such misconfiguration.
So if you are facing some issues with your phone then restarting the device may help to solve this problem easily without much effort.
5. Get help from Telegram
If you followed all solutions that we mentioned above to this issue. Nt unfortunately none of them worked for you, then we recommend contacting the helpline of Telegram they may help you further.
In the worst case if you are willing to close your telegram account forever then here is the Guide To Deleting your Telegram Account Permanently.
Conclusion
We have researched and explained the best possible solutions to fix the You Are Currently Offline Error on Telegram. Hope this post helps you to solve this problem. Don't forget to share your experience related to this problem.