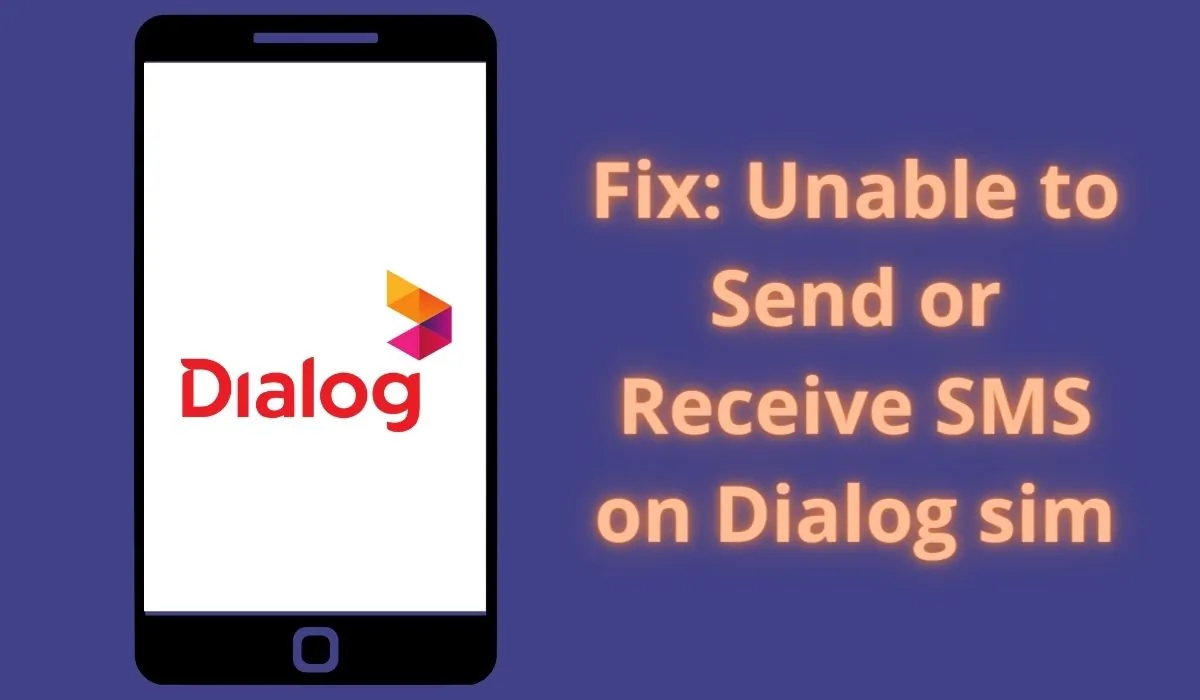 Dialog Axiata PLC, is one of Sri Lanka's largest telecommunications service providers, and the country's largest mobile network operator with 17.1 million subscribers which amounts to 57% of the Sri Lankan mobile market.
I travel a lot, recently I was in Sri Lanka & I observed many people were unable to send SMS messages from my Dialog sim. later I was not able to receive any SMS it was frustrating.
So I tried to find some techniques and told some tips and tricks to solve this issue. So in this post below I have shared some reasons behind this issue hope those reasons and solutions help you, so keep reading till the end.
Fix: Unable to Send or Receive SMS on Dialog sim
Below I have shared the Reason behind both Dialog Prepaid sim and Postpaid sim Users for this issue:
Solution 1
If you have changed your Dialog Sim recently like me, this means the same number and same network but a new SIM(upgraded) then you will not be able to Send or Receive SMS to your number for some time as a part of security measures from Dialog for a few days.
In a similar case, If you got a 4G SIM replacement for your Dialog mobile number, you will not receive or send any SMS for up to 48 hours.
It means if you are using a new sim for 48 hours you may not be able to receive or send any SMS from the Dialog network, for additional information you can contact Dialog support.
Solution 2
If you haven't sent any SMS or Message from your mobile in the last 6 months then Dialog sim may disable the outgoing SMS messages of your mobile number.
To Verify this case you can call Dialog sim Customer Care and Ask them to enable SMS Services. After a successful request once restarts your mobile to start sending SMS. Nowadays this process seems to be canceled so far in 2022. But again I request you to confirm this from customer care.
Solution 3
Your Dialog sim SMS Center Number might be wrong, so in this case, you can try either refreshing or updating SMSC. Remember you should use the SMSC of your area. You should choose SMSC according to your area which you can get from Google.
Steps to update or refresh SMSC:
Dial – *#*#4636#*#* on Keypad.
It will automatically open the 'Testing' settings.
Now if you have two sims in your android phone then choose accordingly. In my case, I opened 'Phone information1'.
Now scroll down and try to find the 'SMSC' option, here will see the Refresh option tap it.
if it didn't work for you then type your network operator's SMSC number of your area and tap Update.
Solution 4
Check Your Mobile Phone Date and Time if it is correct or not. If it is incorrect then it may create some problems. So try to fix it.
Here are the steps to set your device time accurately:
Open your phone's Clock app.
Tap More and go to Settings.
To pick your home time zone: Tap Home time zone. To automatically update your timezone: Tap Change date & time. Set time zone automatically.
To update your timezone based on your location: Tap Change date & time Set time zone automatically.
Tip solution: Put your SIM on a different phone. If it works then the problem is with your mobile phone. Unfortunately, if it doesn't work then try to get help from Dialog Customer care.
Why I am Unable to Receive SMS Messages on Dialog sim
Reason 1: You might have activated DND Do Not Disturb Service on your Dialog Number
Reason 2: Message Memory is Full.
Reason 3: If you are a New Upgraded User of the same Network.
Conclusion:
Hope this post is helpful and that you get help to solve Dialog SMS not receiving or sending. Feel free to share your thoughts in the comment section.