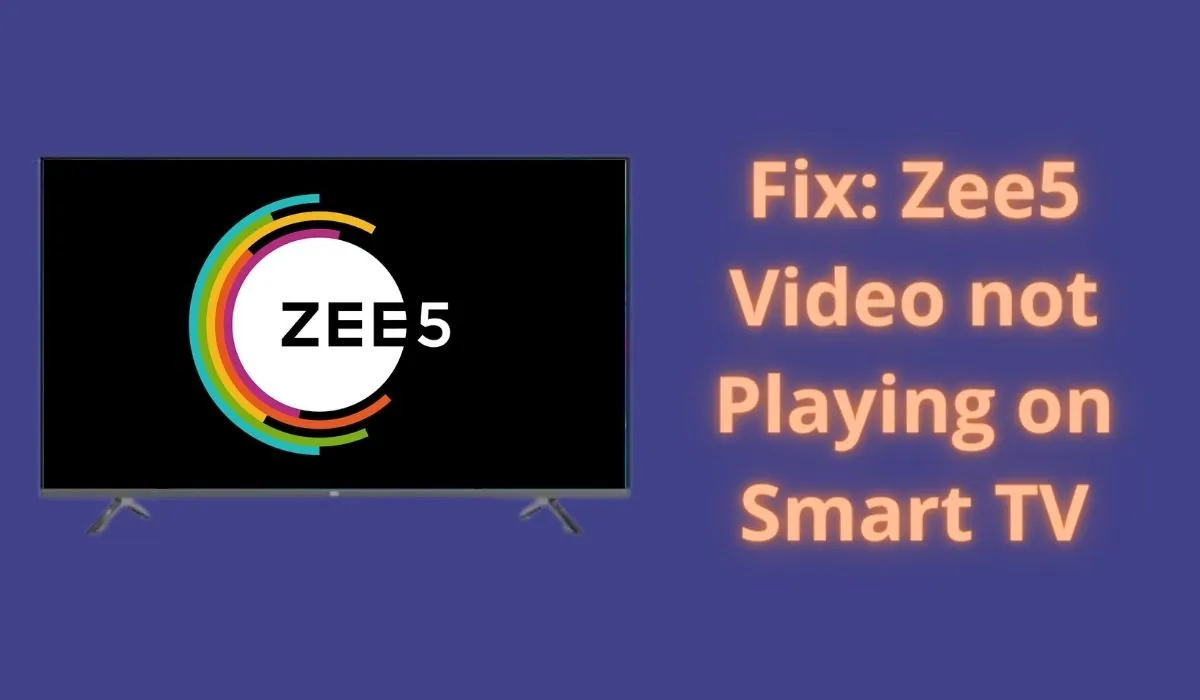 ZEE5 is an Indian subscription video-on-demand and over-the-top streaming service, run by Zee Entertainment Enterprises. It was launched in India on 14 February 2018 with content in 12 languages. The ZEE5 mobile app is available on the Web, Android, iOS, and Smart TVs, among other devices.
Recently I observed some errors while playing videos and movies on our smart tv with the Zee5 app. Other apps like Amazon Prime, Netflix, and YouTube were working fine but on the other hand only Zee5 was giving some issues so to fix this I used some techniques and solutions that fixed issues from our side.
So today in this post I going to share with you some solutions and tips so that you can solve Zee5 Video not Playing on your SmartTV.
Fix: Zee5 Video not Playing on Smart TV
1. Update Zee5
An old version of the Zee5 app may have some bugs that may cause different errors on your SmartTV.
So in this case you must update your Zee5 app. To update the Zee5 app on your Smart TV follow the steps given below:
Steps to Update Zee5 on Android Smart TV:
Select Google Play store.
Select your profile icon in the top-right of the screen.
Select Manage apps and games.
Select Updates.
You can select any listed app Find Zee5 & select update.
Steps to Update Zee5 on Other Smart TV:
Navigate to an App that needs updating, then press and hold the Enter button until a sub-menu appears.
Select Update apps.
Click Select All.
Select Update.
Any apps with an available update will begin updating.
2. Troubleshoot Internet Issue
If you are using Router then for the internet then consider the following points:
Restart the router. Unplug the power, wait about 1 minute, and reconnect.
Reset the Network and check whether the issue is resolved or not. Network reset path in Smart TVs: Home > Setting > General > Network > Reset Network.
Try connecting another device to the router. If it works, then it's a TV problem, and if it doesn't, it's a router or your Wi-Fi problem.
If your Router or Wi-Fi is not working then you should call your Wi-Fi provider for help they will help you further.
If you are using a wireless connection, the distance between the modem or router and the TV must be within 15.2 m, and there should be no obstacle between them.
If you are using another source for an internet connection then check if it is working or not.
3. Reboot the Television
If you face this problem constantly then should restart your Smart TV. This will clear all the possibilities and eliminate the minor bugs and glitches that might prevent the Zee5 app from playing videos. Bring the remote of your TV and power it off for some time and then turn it on.
4. Update Smart TV
Similar to the first solution your Smart Tv may have some bugs which may stop normal working your smart Tv and thus you should update your Smart TV to the latest version.
To update your Smart TV to the latest version follow the steps given below:
Press the HOME button.
Select the Apps. icon.
Select Help.
Select System software update.
Download the Software update.
Then restart your Smart TV.
5. Uninstall & Re-install Zee5 App
Sometimes using all methods don't work due to internal error of the app and Smart TV. Thus in this case simply uninstall the App and then go again and install the Zee5 app from Play Store. This can resolve some issues that other solutions can't solve, so make sure you try this solution too.
6. Contact Support
Now if you have followed all solutions that we recommended to you and still have issues then you should contact the help support of Zee5 or contact the help support of smart TV near you.
Conclusion
Hope you got value from this post, if we have missed some points then you can suggest them to people visiting this page in the comment section.